J. Jacob Kirksey, Ph.D.
Assistant Professor of Educational Leadership Policy
College of Education, Texas Tech University
Associate Director of K-12 Research
Center for Innovative Research in Change, Leadership, and Education (CIRCLE)
ExpandED Talks Will Continue in the 2021-22 Academic Year. More information to come soon!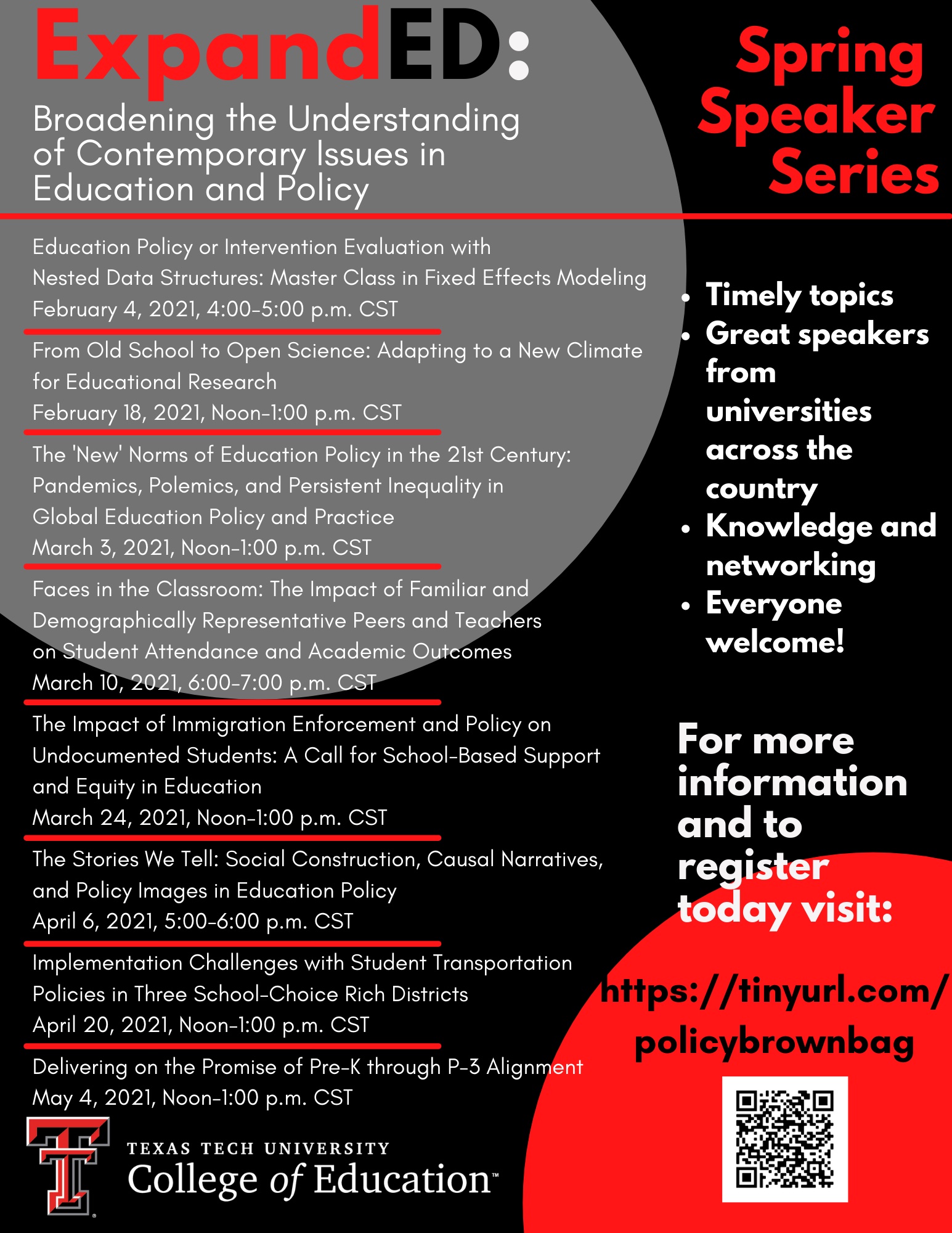 Last spring, the Educational Leadership Policy faculty at Texas Tech University hosted eight talks as part of the inaugural virtual policy brown bag series, "ExpandED: Broadening the Understanding of Contemporary Issues in Education and Policy." Featuring researchers from the College of Education and various institutions across the country, the aim of this series is to bring together students, faculty, and researchers at Texas Tech and beyond to disseminate knowledge that is of immediate relevance to educational leadership and policy and facilitate the cross-pollination of ideas across multiple institutions.
Audiences from across the country will gather virtually to engage with speakers on topics related to policy evaluation and open-science research practices, evolutions and social constructions of education policy over time, and empirical research noting the barriers and challenges to providing equitable educational opportunities for historically marginalized students.
Schedule and Summary of Spring 2021 Talks
Education Policy or Intervention Evaluation with Nested Data Structures: Master Class in Fixed Effects Modeling
Speaker: J. Jacob Kirksey, Ph.D.
Educational researchers are faced with a litany of data limitations that can prevent them from making accurate inferences to understand the effects of various policies, programs, or interventions. One common issue is that participants are frequently grouped in a way where they share many non-random characteristics that could bias our inferences (e.g., students within classrooms share the same teacher, voters within counties share the same voting regulations). This workshop will focus on using fixed effects modelling to reduce estimation bias from analyses using longitudinal or cross-sectional data. The master class will include discussion of problems with making inferences that fail to consider the possible impact of nested-data structures, how fixed-effects modelling compares to multilevel modelling, and other key considerations for researchers in the social sciences using data from surveys.
The 'New' Norms of Education Policy in the 21st Century: Pandemics, Polemics, and Persistent Inequality in Global Education Policy and Practice
Speaker: Alexander W. Wiseman, Ph.D.
In just 20 years, the 21st century has brought policy change to education at levels rivaling the paradigm-shifting global educational reform efforts of the 20th, but the same problems (in different forms) seem to be repeating themselves nonetheless. 21st century education policy, especially at the global and national levels is forced to take into account the effects of a pandemic, polemical and populist politics, and both institutionalized sexism and racism. And, there have been and will continue to be significant changes in education policy and practice in response to these crises, but amid the change there is remarkable permanence in the ideas, structures, content, and pedagogy embedded in education as well. This paper examines the promise of 20th century advances in education policy and practice against the challenges and pitfalls of 21st century education as evidenced by national and international educational developments.
From Old School to Open Science: Adapting to a New Climate for Educational Research
Speakers: Hunter Gehlbach and Carly Robinson
Recently, scholars in medicine and psychology have noted how several "old school" practices—a host of well-regarded, long-standing scientific norms—in combination, sometimes compromise the credibility of research. In response, several "open science" norms and practices have emerged to address these credibility issues. This talk explores the extent to which and how these norms should be adapted and adopted for educational research. Using our own studies as case examples, we aim to do three things during the talk:
Illustrate the problems of "old school" practices and how they can lead to illusory results,
Provide an overview of emerging open science practices, and
Give examples of what qualities we might expect to see in educational research moving forward.
We look forward to a discussion of how these practices may need to be adapted for educational researchers and what the implications are likely to be.
Faces in the Classroom: The Impact of Familiar and Demographically Representative Peers and Teachers on Student Attendance and Academic Outcomes
Speakers: Levi Johnson, Christa Tucker, and Joseph Elefante (Texas Tech Ph.D. Students)
Student engagement in school has been a persistent area of concern for educators, school leaders, policy makers, and stakeholders. Emerging research suggests that school closures and social isolation from the COVID-19 pandemic have only made connecting with students more challenging. In the search for cost-effective mechanisms for improving student attendance, engagement, achievement, researchers and practitioners have begun looking at the faces of students' peers and their teachers. As we seek effective responses to new challenges to student engagement, can placing students in classrooms with familiar or similar teachers and peers positively affect these outcomes? We examine the impact of demographic representation among peers and teachers and having familiar peer and teacher faces. To accomplish this, we explore four years of administrative data from a small, urban school district in California. Included in these data are student demographics, academic achievement, transcript information, discipline, and period-level logs of attendance.
The Impact of Immigration Enforcement and Policy on Undocumented Students: A Call for School-Based Support and Equity in Education
Speaker: Sophia Rodriguez, Ph.D.
The Stories We Tell: Social Construction, Causal Narratives, and Policy Images in Education Policy
Speaker: Jessica Gottlieb, Ph.D.
Delivering on the Promise of Pre-K through P-3 Alignment
Speaker: Michael Little, Ph.D.
A wealth of research suggests that high-quality Pre-K programs can significantly improve student readiness for school. However, it is often the case that the initial benefits of scaled-up Pre-K programs diminish in magnitude once children enter elementary school—a pattern known as Pre-K fadeout. In this presentation, Dr. Little will discuss the movement to better align Pre-K with the early grades (P-3 alignment) and specific strategies for doing so.